Dental implants of high quality abroad


In our dental clinic in Barcelona we will help you regain your chewing function and improve your facial aesthetics through significantly beautiful teeth. Take advantage of your stay in Barcelona to simultaneously undergo a cheaper, high-quality dental treatment.
At replacement of lost teeth, in our opinion, it is crucial exclusively use premium implants to ensure that:
The long term results are achieved.
All prosthetic components of an implant system (implant post) remain available worldwide also in the future.
There is a vast unlimited warranty period.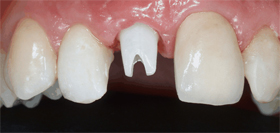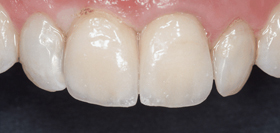 The implant we use exclusively is Ankylos Dentsply (Nº 1 of the Dental Companies).
Apart from the advantages offered by the premium implants, we opted for this implant system, since by its TissueCare concept® it has additional superior properties.
As well as all the advantages of a premium implant this implant boasts a superior performance thanks to the tissue care concept™. The connection between the implant and the implant abutment is performed by a morse cone. In other words there is no gap on the connection unlike other implants (you can find the same form of connection on aircraft engines).
Advantages of a dental implant in our dental clinic in Barcelona
When there is a tooth loss, the best alternative is a dental implant. In the DZK dental clinic in Barcelona, premium implants branded Dentsply (number 1 of the dental companies) are applied to ensure the long-term future of artificial teeth. Advantages of our Ankylos implants from Dentsply are on the one hand their proven durability and, secondly, their life time guarantee period. Our implant system is based on a high-technology gap-free conical connection. Thus, no bacteria enter into the interior of the implant body and in addition, the bone does not degrade.
Benefits of such dental implants: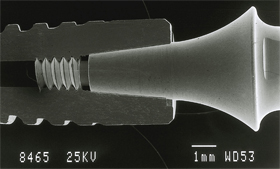 1. Bacteria do not reach the interior of the implant body and as a result the local bone does not degrade. This means a longer durability of the implant.
Thanks to this mechanically stable connection (no gaps) often times we can solve cases with fewer implants
2. The implant has a so-called platform switching. In other words, there are two different platforms: a surgical, below the bone (thanks to which, because there are no gaps) and a wider prosthetic platform. Narrow implants can be used in situations where there is little bone, due to the platform-switching as more tissue covers the implant.
3. Sustainable, since the abutments can be in age-related receding gums simply replaced with shorter ones, without requiring a new implant.
4. Minimal invasive surgery since the working field (implant connection) is substantially smaller than the case of mechanically unstable implants with a butt connection.
5. Modern surface = CELL Plus. The high-tech surface of this implant is designed like a microchip with a complex 3-dimensional surface allowing for quicker and safer healing.
6. The gap free tissue care connection™ allows stabilizing bone grafts with the implant. A combination with modern grafting techniques becomes possible particularly on patients who do not have enough bone.
(We also use piezo-surgery carried out purely by ultrasonic.)
How much cost a dental implant abroad?
Dental implants are very expensive even abroad. Dental materials are usually expensive, especially if you opt for the most modern high-tech implants. In addition, high costs are likely for the intervention of highly qualified personnel. Our dental clinic in Barcelona offers an opportunity for a first-rate dental care at significantly lower prices than in your country.
DZK is a German-, English- and Spanish-speaking dental clinic in Spain, ​​which cooperates with a German master laboratory. Our implantologist Dr. Christian Eickhoff and his experienced team offer high quality private dental prosthesis treatments by implants in Spain much cheaper than in UK and other European countries. As many satisfied patients can say, save moneydoesn't mean to sacrifice the highest quality standards of dentistry.
When do you need a dental implant?
A dental implant is usually recommended with a tooth loss, since it establishes the chewing function fully again. The implant consists of two parts: the implant body and the implant structure to which the tooth crown is cemented.
The implant body is fixed below the bone. The broader prosthetic platform gives the crown the necessary support in order to chew normally again. Once the jawbone is receded, a bone augmentation is required in order to give the implant body the necessary stability.
Which are the risks with dental implants?
Although implants give the impression of a difficult and dangerous intervention, they belong to the low-risk interventions. In our dental clinic in Barcelona we generally use highly compatible materials for dentures, which are also suitable for sensitive patients. Since dental implants are also completely surrounded by body tissue, the risk of infection is very low. With good planning, it rarely comes to pain or bruising. Through proper medication side effects are also largely preventable and they stop after a few days.
Beautiful teeth with dentures
A qualitative dental implant contributes to better aesthetics. Dental implants feel just like natural teeth. It restores a perfect chewing function and gives a neat look. Find out more about our other dental services in Barcelona.