Dr Eickhoff – your dentist in Barcelona

Dr. Christoff Eickhoff is an experienced dentist who is specialized in implantology, endodontics, periodontology, prosthetic reconstruction and cosmetic dentistry. He also offers treatments in aesthetic dentistry, orthodontics, and a whole range of prosthetics.
Since 2004, he has his own dental practice in Spain. He is the founder of Deutsche-ZK Clinica Dental in Barcelona and he is a renowned dental expert who has held various conferences and lectures in the field of implantology for dentists and oral surgeons in Europe. Dr. Eickhoff has also published various articles in the field of implantology.
Dr. Eickhoff has treated patients from all over Europe for many years. He focuses on high quality denture materials. As a former scientific adviser in implantology for Dentsply Friadent, he is aware of how important it is to use first-class materials, such as zirconium crowns. Only excellent dentures and professional precise interventions ensure the durability of a dentition.
Curriculum vitae
Dr. Christian Eickhoff, DDS and Phd University of Düsseldorf / Germany.
Founder of Deutsche-zk Barcelona
Studies of Dentistry at the University of Heidelberg and Düsseldorf
Graduate of Heinrich-Heine-Universtität Düsseldorf 1998
PhD University of Düsseldorf 2003
Thesis at the Department of Oncology and Adjuvant Radiotherapy: Results of adjuvant radiotherapy for head-and-neck cancer- a long term evaluation
Clinical experience from 1998- 2004 in private clinics in Germany (Düsseldorf area)
Postgraduate courses in the fields of implantology, periodontics, aesthetic dentistry, endodontics, prosthodontics, surgery and ATM
Scientific assessor in the field of implantology for Dentsply Friadent (Germany) 2003/2004
Registered at the Spanish Dental Board of Catalonia 2004, COEC 4438
Since 2004 clinical work in Spain at private clinics in Barcelona
Since 2007 in own private clinic in Barcelona: Deutsche-zk CLINICA DENTAL
Graduate in Orthodontics ( progressive Orthodontics-California/ USA…2011)
Scientific activities:
• International lectures and conferences in the field of implantology for dentists and oral surgeons in Germany, Belgium, Holland, France, Spain, Austria and Switzerland
• Workshop given in the Congress of Implantology SSI 2004, St. Moritz /Switzerlan
A highly professional dentist team is waiting for you in Barcelona
Benefit from the professionalism of Dr. Eickhoffs and his team and undergo a dental treatment in Spain at low prices. Our dental clinic in Barcelona offers high-quality functional and aesthetic dentistry for beautiful teeth at significantly lower prices than in the UK. We guarantee the best results thanks to the use of the latest techniques and high-tech equipment.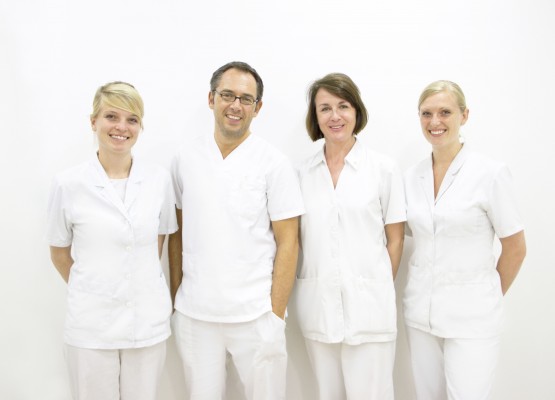 Dr. Eickhoff and his team will inform you in detail, prior to any dental treatment: smile makeover, dental crowns or dental implants. Win your smile back and save up to 40-60%. Our dentist will provide you with high quality dental implants, dental crowns, veneers and dental bridges. Our dental clinic in Barcelona works exclusively with a German master laboratory. They design for our prosthodontics of the highest quality and precision. Contact us and get a dental treatment in Spain by a renowned experienced dentist. Find out more and receive a non-binding estimate with us.
Take the opportunity to visit one of the most beautiful city. We can finish the entire dental treatment (depending on treatment) on one day, letting you enjoy your holiday in Barcelona with a carefree smile. Read more about the procedure here.